I have been battling these darn things for years! It all started with a batch of hemp seeds. All I wanted was a little nutritious salad topper, and I ended up with a pantry infestation.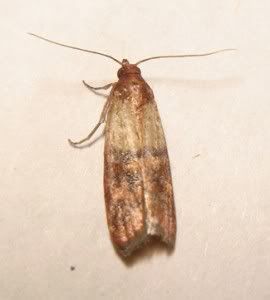 Since that time, I only store food in airtight containers and I do weekly pantry scrubs. If you don't properly store your food, they will find a way in. I have had to throw out 3 brand new bags of rice because they have gotten in when they have not even been opened!
I have learned that they love nuts and seeds the best, and are not fond of spices or tea. I have also learned that if you can get rid of the food source, they simply cannot survive. However, they. are. clever! Just when I thought I got rid of them, they turned up in my daughters room. Food source - an old bag of hamster treats that she had stored in her bedside drawer. So we did a culling and a cleaning. They disappeared again... only to come back. Where? In my office that is in the basement! Food source - a couple almonds left in a bag that got pushed behind a stack of envelopes. Culled and cleaned. They came back a couple more times at no ones fault other than my own... bird seed that I thought would be okay because it had a ziploc closure. After properly storing the bird seed, I also took a tip from my neighbor and applied stickers to all the holes in my pantry walls. (You know the holes for moving the shelves... apparently they get in behind these holes and that's why you can't get rid of them!) So today, I saw a little bugger flying around my office. I swatted him and then started another thorough cleaning. Food source: A Reeses peanut butter wrapper.
**Side adoption note - First home study is TODAY! Yippee!